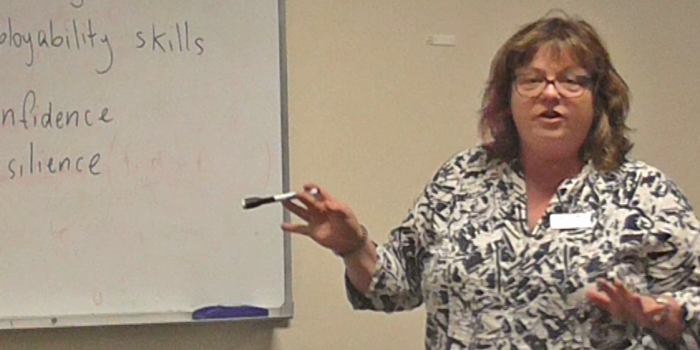 The days of starting a job, giving decades of loyal service, and retiring from the same employer are ancient history. Today the average time an Australian worker spends in a single job is just three years and four months. McCrindle Research[i] estimates that a school leaver today will work for 17 (yes, 17!) different employers by the time they reach retirement age.
Sometimes we are excited and energised by job changes, perhaps because we are seeking greater challenges or better pay. Other times, change can come when we neither expect nor want it, in the form of redundancy, economic downturn or unplanned life circumstances.
Often changing jobs is accompanied by stress and self-doubt, particularly if the change has been forced upon us. However help to navigate these changes is always available and you do not have to tackle it alone.
So whether you want to get straight into a new job, or whether you want to upskill by doing some study first, our highly experienced careers practitioner, Anita, has put together her top seven tips to help you make the right move.
Seven top tips for changing jobs:
Are you ready?Determine if you are ready to make the change? Be honest about where you are at present. Are you physically and mentally prepared for such a big life change? If you are receiving income support check that you are following a path that is right for you, not one that is dictated by outside factors.
Needs vs wants. Decide on what your needs are versus your wants, and which take priority. Often we have better results when we pursue our wants, but sometimes our needs take centre stage, because we have to put food on the table and pay the rent or the mortgage. Decide which of those things is true for you and therefore what action you have to take.
Commitment. Be prepared to have a go and to commit. Positive change rarely happens without effort. If you've enrolled in a ten week course, make sure you stick with it each week. If you've set yourself a target of applying for five jobs a week, work hard at achieving that target.
Supports. Use your supports. Seek out the people around you, including family and friends, who will support and encourage you. If you need to, seek out a friendly careers practitioner who will guide you on your path.
Networks. Use your networks. Expand your relationships with the people who could help you get into a new job and nurture the relationships that have worked for you in the past. Nowadays networking is more important than ever.
Personal responsibility. Take responsibility. Avoid the blame game and recognise that you are in charge. Acknowledge that every action—and inaction—you take has its consequences.
Look outside yourself. Volunteering is an excellent way of gaining new skills, establishing new networks, staying motivated and connected, and expanding your resume. It is also a great way of helping the community.
So there you have it, seven tips to help you work out where you are now, where you are heading, and how to stay grounded whilst avoiding feeling disheartened.
If you need an objective, professional perspective Anita is available for one-on-one consultations at our Hastings and Rosebud locations. If you would like to make an appointment with Anita please phone Rosebud on 5986 4623, or Hastings on 5979 1398, to book in a time.
Know someone who might benefit from these tips, or by talking to Anita, feel free to share this post with them.
————————————
[i] https://mccrindle.com.au/insights/blog/job-mobility-australia/